It's the forty-fourth Terrific Thrifty Thursday! Time for me to feature some great DIYs I have found on the internet!
The first is from
Easy
. It's a cute little plush heart crochet pattern! Very cute.
The second project I'm featuring today can be found on
Crochet Spot
. I love this heart scarf!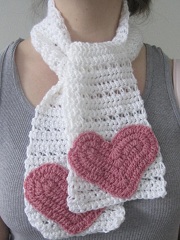 These projects have some things in common: hearts and crochet. ;)
Do you have a project to share for a Terrific Thrifty Thursday? Then you can submit it to: mypassionsforfashions (at) yahoo (dot) ca I would love to hear from you! Please grab one of my buttons for your blog if you were featured!
Both projects found through One Pretty Thing.
P.S. If you have any questions for me, click
HERE
and leave a comment.